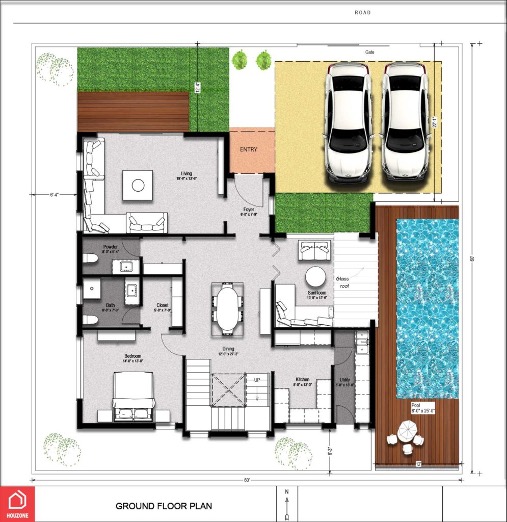 June 16, 2021
3 Bedroom duplex with pool
A beautiful 3 Bedroom Bungalow with Pool, Luxury design
A Client ordered a Luxury 3 Bedroom house design on www.houzone.com with requirements of a 3 Bedroom Bungalow design on his large plot of 60′-0″ x 60′-0″. He wanted a duplex floor house with a pool and lawn in the front, a compact design that meets his requirements.

The Architectural House Design team of HouZone.com custom-designed the house for the client and presented him with a plan according to his requirements.
The design is area-specific, and entry is through a Foyer into a formal living room. Foyer also connects to the central family and dining area. A sunroom with a glass roof brings in ample sunlight and ventilation into the house.
The sunroom overlooking the lawn on the front invites sunlight through large openable french windows and an opening to the poolside with a deck outside for outdoor seating.
The kitchen connects to a large utility. The one-bedroom is located on the ground floor and two on the first floor, providing ample privacy to the family members. Two of these bedrooms have connected bathrooms, while two are common for guests and family usage.
The design is very contemporary yet very private and elegant. Large windows with high ceilings give this house the beauty and comfort of a bungalow.
Outdoors spaces are provided for the lawns, flowering and pool, etc.
If you too are planning to build your dream house, please visit www.houzone.com and get step-by-step guidance for house design, structures, elevations, cost estimations, interiors and much more.
You can also WhatsApp us on +91-9100033897 for more information.