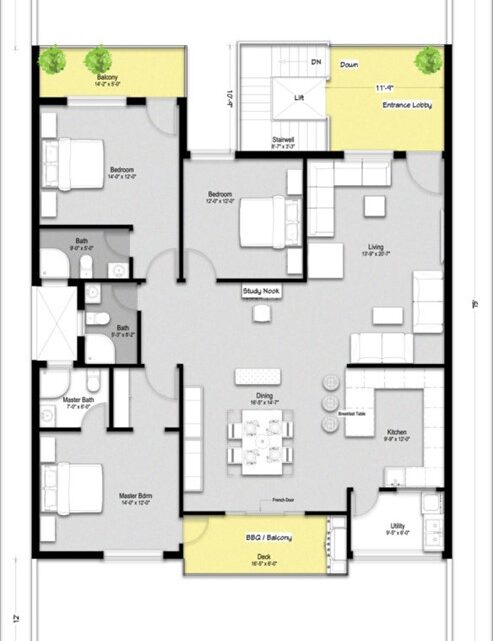 November 17, 2023
"Crafting Elegance: A Three-Bedroom Apartment Style Design by Houzone"
Are you dreaming of a home that seamlessly blends style and functionality? Look no further than the exquisite three-bedroom apartment style designed by Houzone, tailored to meet the unique preferences of our discerning client. Nestled on a 350-square-yard plot, this residence exemplifies the perfect fusion of Indian architectural aesthetics and modern living.
At Houzone, we recently undertook the exciting challenge of creating a three-bedroom apartment-style house that not only met the spatial requirements of our client but also reflected their individual taste. Spanning 2000 square feet, excluding additional features like car parking, this thoughtfully crafted design marries comfort with contemporary elegance.
Design features of three bedroom apartment style plan
The ground floor boasts a stilt design, featuring a strategically placed staircase with a lift for convenient access to the upper floors. The heart of the home is an open floor plan that seamlessly connects the spacious living room, dining area, and a modern open kitchen. While the design promotes an open layout, we've incorporated a provision for a partition, offering the option to create a more private living space when desired.
Dining transcends its traditional role in this design; it transforms into a versatile family gathering area. With open access to a balcony adorned with full French windows, this space becomes an extension of the home, inviting the outdoors in. The design aligns with vastu principles, ensuring that each of the three strategically placed bedrooms receives ample natural light and ventilation.
In response to the client's specific request, we incorporated a unique touch – a barbecue space in the balcony adjacent to the dining area. This outdoor haven is not only a culinary delight but also accessible directly from the master bedroom, adding an extra layer of luxury to the living experience.
Houzone design principles
Our commitment at Houzone goes beyond meeting client specifications; we prioritize the significance of ventilation and technical aspects such as column-beam placements, plumbing requirements, and more. This holistic approach not only results in a home that suits individual lifestyles but also contributes to environmental sustainability. A well-designed home translates to lower maintenance costs and, consequently, significant savings.
While the three bedroom apartment style design may appear simple at first glance, its elegance lies in the thoughtful integration of practicality and aesthetics. At Houzone, we believe that a home should be a reflection of its inhabitants, combining functionality with style to create a living space that stands the test of time. Explore the art of sophisticated living with our meticulously crafted three-bedroom apartment design – where every detail tells a story of elegance and comfort.
If you plan to build your dream home, please visit www.houzone.com and get customized support from our team of experts. We will be happy to help you plan and design your dream home. Best of all, you can order our services online.

View More House Design Services & Pricing offered by Houzone.com