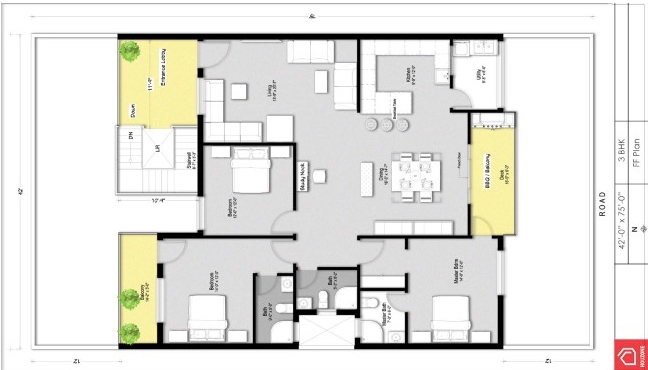 April 29, 2019
3 Bedroom Indian house plan
Indian House Design for a three-bedroom house can be a single-plex or a duplex depending on the size of the plot. A 300 Square Yard plot would be ideal.
The house floor plan will require about 1200 to 1500 square feet of built-up space, excluding car parking and other additional features.
In the above three-bedroom floor plan, the plot is 42′-0″ x 75′-0″ (350 sq. Yards) and is a North facing plot. We have left the area on the ground floor for parking and for a future 2 bedroom house as per the client's requirement.
The design is simple but elegant. We have divided the spaces into 3 parts. The guest area is the living room, which extends to a semi-private space – an open kitchen and dining area. The Dining is very well ventilated with french windows opening into a balcony. And the private space which is the bedrooms.
Our team has taken special care in providing good size windows, which are essential for proper ventilation, light and air. We have also left front and back setbacks for adequate circulation.
What would be the construction cost?
As of 2019, the cost of constructing a 3 bedroom house in India is estimated between Rs. 2000.0 to Rs. 3000.0 per Square Feet of Covered Slab area. Yes, the built-up area is generally less than the slab area. The slab can extend for a car porch or for elevation purposes. You need to know that the cost depends on many factors; compromising the quality of material and labour eventually results in significant maintenance during the lifetime of the house.
Houses become homes, so it's essential to design them with sensitivity and love.
If you plan to build your dream home, please visit www.houzone.com and get customized support from our team of experts. We will be happy to help you plan and design your dream home. Best of all, you can order our services online.

View More House Design Services & Pricing offered by Houzone.com