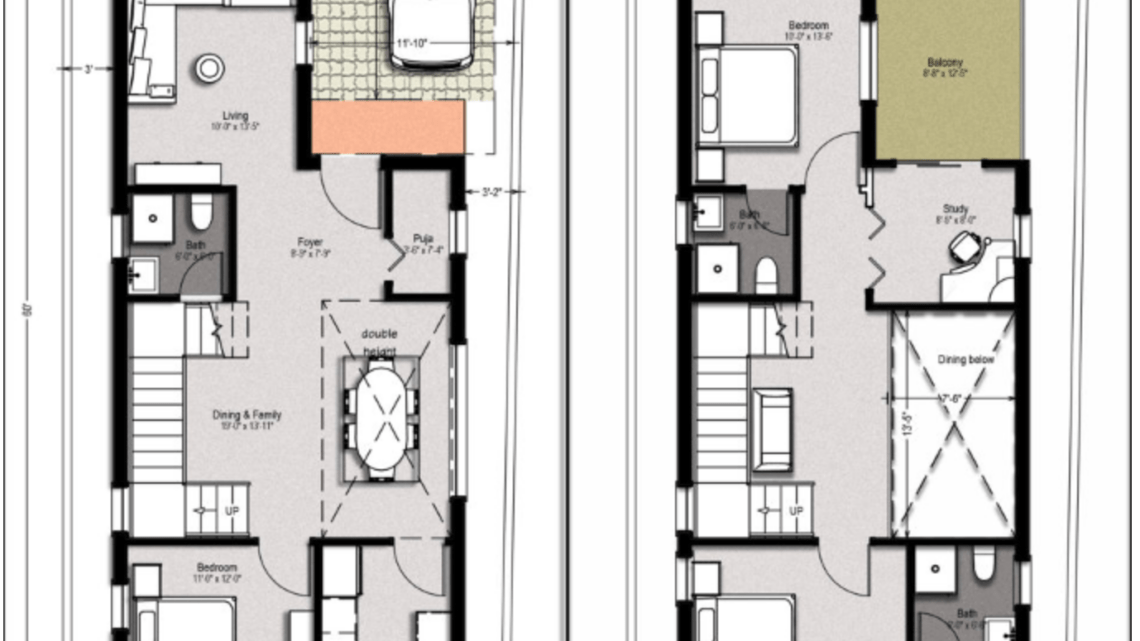 June 18, 2021
3 bedroom simple duplex design
"Unveiling a Chic Three-Bedroom simple Duplex design: Architecture in Harmony
Step into the realm of architectural finesse with our three-bedroom simple duplex house design. Commissioned for a 27'-0″ x 60'-0″ plot, this elegant dwelling is a testament to simplicity and functionality. Crafted by the HouZone Design Team, the design not only aligns with the client's desires but also embraces Vastu principles.
Design Details on Ground floor
Designed for optimal ventilation, this three-bedroom simple duplex house design features a north entry with convenient car parking. The living area is strategically placed for entertaining guests, ensuring a harmonious coexistence with private spaces like the kitchen and bedrooms. Opening up to a front lawn, the living room establishes a seamless connection with nature. The northeast placement of the puja space adds a spiritual touch to the home.
The dining area, marked by its double-height design, is positioned adjacent to the kitchen for a seamless dining experience. The staircase serves a dual purpose, connecting floors while contributing to the overall sense of space. Following Vastu guidelines, the master bedroom finds its place in the southwest, creating a serene retreat for relaxation. A shared toilet on the ground floor adds to the convenience for guests.
Design Details on First floor
Venturing to the first floor reveals two additional bedrooms, each equipped with attached toilets, and a glass-enclosed study area. The design strikes a perfect balance between simplicity and elegance, offering a construction process that is both straightforward and cost-effective.
For those contemplating their dream home, our online platform at House Plans Pricing – Houzone provides a tailored solution. Explore the possibilities and order a custom-designed house that caters to your preferences, plot size, and more. Let our expert designers turn your vision into reality, ensuring a home that is uniquely yours."