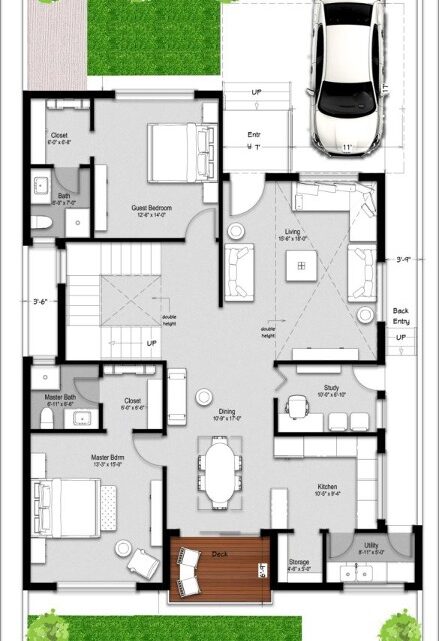 June 17, 2021
A Beautiful 4 Bedroom Duplex House on a 300 sq. Yards Plot
Exquisite 4 Bedroom Duplex Residence Unveiled on a 300 Sq. Yards Plot
Embarking on the creation of a dream home, our client commissioned a 4 bedroom duplex on their expansive 39′-6″ x 70′-0″ plot, complete with a North-facing rod and a Vastu-compliant vision. Entrusted to the adept Architectural House Design team at HouZone.com, the result is a stunning home that seamlessly blends aesthetics with functionality.
Our team, driven by a commitment to meeting client expectations, presented an initial draft plan, which the client admired. In a testament to our dedication, we accommodated the client's requested modifications, staying true to our commitment within the contract, and delivered the final floor plans with no additional cost.
Ground Floor Design
The Ground Floor welcomes with a designated car parking space, leading to the living room, optionally enclosed for versatility. To the left, a guest bedroom with an attached toilet and walk-in wardrobe ensures privacy, overlooking a serene garden. The living room, featuring double-height ceilings, imparts a grandeur fitting for a duplex residence.
Following Vastu principles, the master bedroom graces the South West, while the kitchen resides in the South East, seamlessly integrated with the dining area. An open-concept kitchen, connecting directly with the dining space, extends to a deck through French doors, providing an inviting outdoor retreat and infusing the interior with natural light.
The client's request for a formal study room materialized, accessible from common areas and featuring an external door for visitor convenience. Ascending the staircase, flanked by a central well opening, leads to the First Floor.
First Floor Design
The First Floor reveals two additional bedrooms with attached toilets and walk-in wardrobes, a family and play area, storage space, and a dedicated puja area. All spaces seamlessly connect to terraces and balconies, ensuring optimal ventilation and open vistas throughout the residence.
At HouZone.com, our design philosophy prioritizes natural light, wind circulation, and well-proportioned rooms, offering the residents not just a house but a comfortable and joyful living experience. Embracing Vastu principles, this 4 bedroom duplex residence is poised to bring prosperity and happiness to its fortunate inhabitants."
If you, too, are planning to build your dream house, order your house plan and house design online. Visit www.houzone.com and select the house design service, and order online.
If you have any doubt regarding what services to order or wish to discuss your design requirements with our design coordinator, you can WhatsApp us on +91-9100033897
"PLANS FOR HAPPINESS…