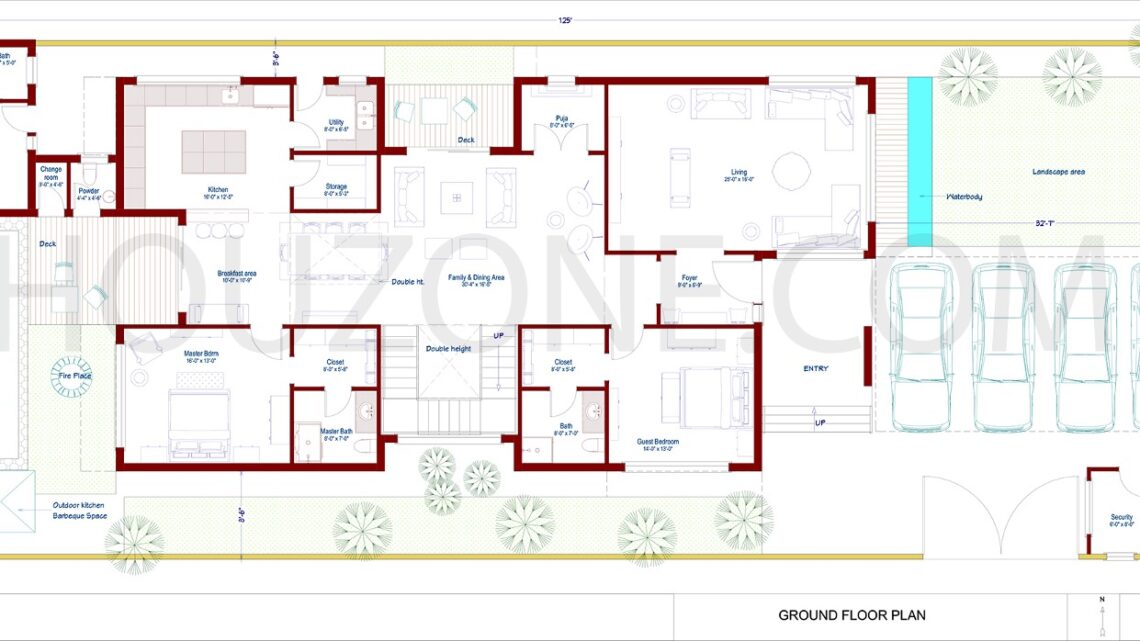 June 17, 2021
6 Bedroom Pool house
Luxurious 6 Bedroom Duplex House with swimming pool in 125x50 (695 sq. Yards Plot)
A Client orders a six-bedroom duplex house in his plot of 125′ x 50′, a total of about 695 Sq. Yards. His requirements were:
1. Swimming Pool
2. 6 Bedroom Duplex House
3. Front Garden and parking for four cars
4. Maid's / Servant's Room
5. Barbeque Space / Deck
6. Home Office on First Floor
7. Games Room
8. Home Theatre
9. Many other small suggestions requested by the client

The team of Houzone.com, Architectural House Designers and Construction professionals, presented this draft design to the client.

The Ground Floor portion of this beautiful six-bedroom luxurious duplex house has two bedrooms, one acting as a guest bedroom located near the entrance to accord privacy to the guest and slightest disturbance to the family.
The 2nd bedroom is the master bedroom, which is in a corner for best ventilation and best privacy.
A large kitchen with a breakfast area, dining area, and family area forms the core of the design. A spacious formal living room and a puja room completes the ground floor.
An ample open space left for the garden and parking in the front of the house. An inviting backyard with a swimming pool, a fireplace with open deck, barbeque area and maid's quarters. All amenities such as a change room for the swimming pool and an outdoor powder room completes the outdoor space design.

The First Floor of the house is accessed by a square-shaped staircase with an open well, giving a feeling of space and luxury.
The First floor of the house has four bedrooms, each with its walk-in wardrobe and attached toilets, a game room, and a home theatre for entertainment purposes. Large balconies and open spaces provide a feeling of spaciousness and proper ventilation.

The design of the house ensures that there is all-around space left for natural ventilation and that the rooms are ergonomically designed for optimum comfort. The design is economical as the First Floor follows the structural design of the Ground Floor.

A beautiful, well-ventilated, luxurious six-bedroom duplex house with a swimming pool and all modern amenities along with large open spaces outdoors for best living comfort is designed by houzone.com.