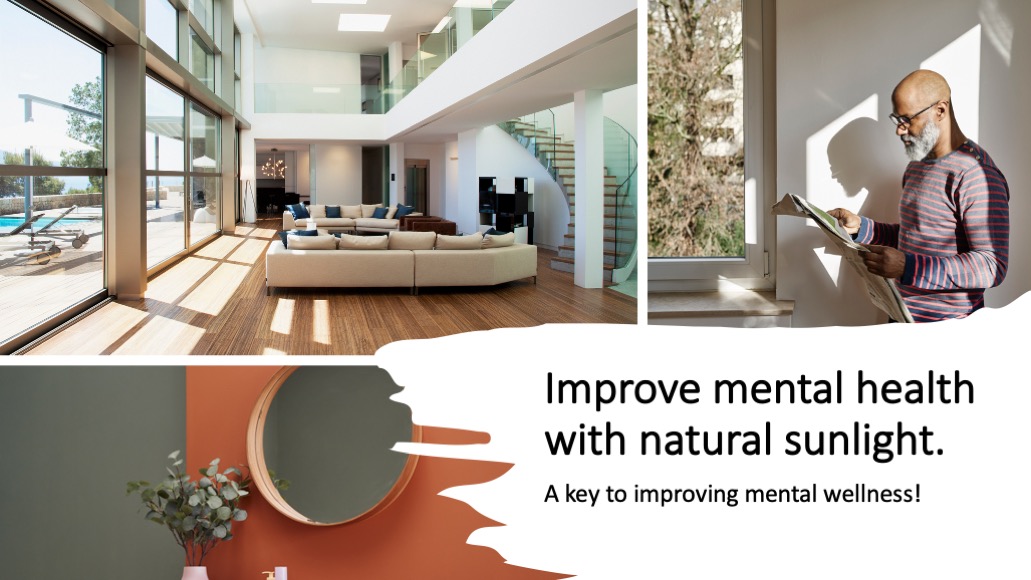 January 18, 2023
IMPROVE MENTAL HEALTH AT HOME WITH NATURAL SUNLIGHT
Your house is a sanctuary, a safe and secure place in the world, a place where you unwind. A house should also be a place that can improve your mental health. Whether you are planning to buy a new house or already living in one, a few changes can make a lot of difference to your mental wellness.
The brighter, the better – natural light and ventilation.
Light plays a vital role in our lives; research shows humans are less active when it is cloudy and more active when it is sunny. So, it is essential to let more sunlight into the house; when designing, think of having more oversized windows, French doors, or Skylights. For homes where these changes are impossible, have an appropriate place mirror to get more natural light. Mirrors help bounce the light casting more brightness in the rooms.
Open sesame – Drapes and Blinds
Coverings to the windows and doors can help with privacy but can make the rooms less bright. Choose double curtains, have sheer and fabric so that you can have the sheer curtains to let the light into the house and fabric for privacy. You can go for Binds; these are easy to use as you can have the blinds pulled down and adjust the angle as required. Whether one uses curtains or blinds, if they are drawn open, one can see outside, a chance to observe the night sky and enjoy the morning sunlight.
Lets colour – Wall and Flooring
They are unlimited choices when it comes to colours but choose wisely. Light colours are more reflective and add brightness. So having lighter flooring and lighter colour walls will be more effective. But it does not mean it should be dull; you can always choose to have a brighter wall which can act as an Accenture wall, and decorate it with pictures and mirrors to make it a focal point of the house.
Help yourself soak in the sunlight for more vitamin D, which helps fight depression and stress. When you let the natural light inside the house, you also let positivity into your life.
Interested in your Mental Wellness? visit Mental Wellness – 300+ Daily activities (mywellnessmantra.ca) to improve your overall mental wellbeing.